Make a Virtual Charity Gift this year: choose the activity you want to support, make the donation, and request the personalized virtual card to send to the recipient you love.
Symbolically purchase books, a school kit or a month's tuition at the private school that allows children to have a quality education. Your gesture will go entirely to support the education and daily lives of  Upendo, Joceline, Amos*, and all the children and youth in Malaika.
There is great excitement in Malaika during the Christmas season. Not only because volunteers and founders from different parts of the world come to the children's home during these months of the year. But mostly because in Tanzania the new school year begins in January, and this is a time of preparations and new beginnings.
Some finish a course of study, some change classes, or schools, and even some begin their first year of schooling. Each child welcomed to Malaika is cared for according to his or her needs and predispositions, listening to their requests and helping them with the important choices in their lives.
But it is not always easy to match wishes and needs with the financial availability that has come through fundraising.  That is why on the occasion of the 2022 holidays we decided to make virtual cards for the first time that can become real gifts, filling not our homes but the hearts of all of us.
Don't forget to send an email to sostenitori@malaika-childrenfriends.org to receive the personalized virtual postcard.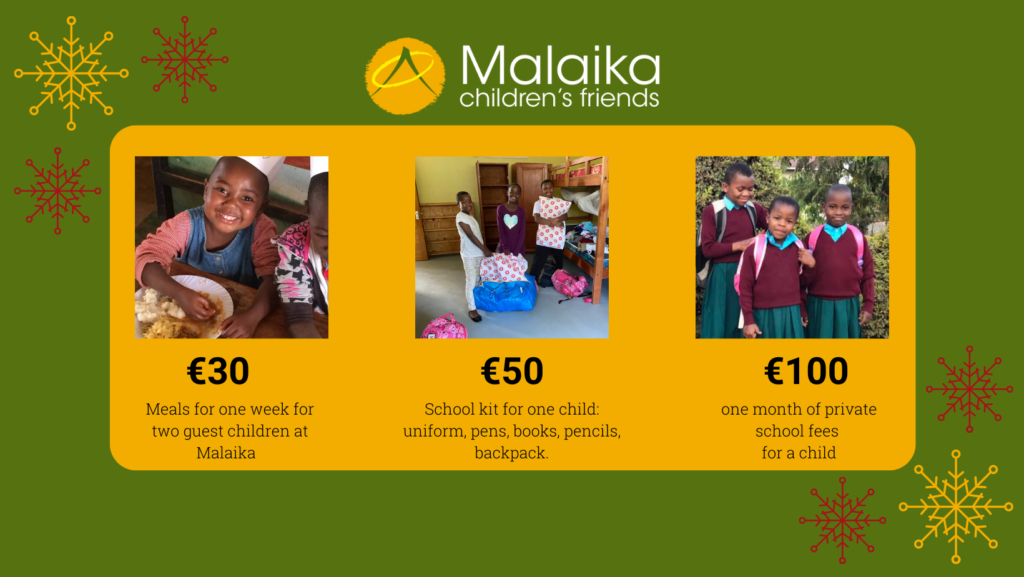 *children's names are fictional to protect children's confidentiality