WE WANT TO TELL YOU SOME OF THE STORIES OF CHILDREN IN DIFFICULT SITUATIONS WHO HAVE ARRIVED AT THE MALAIKA FAMILY HOME. FOR THE SAKE OF PRIVACY, THE CHILDREN'S NAMES HAVE BEEN CHANGED AND THE PHOTOS DO NOT REFER DIRECTLY TO THE CHILDREN MENTIONED, BUT THE STORIES ARE REAL.
Hello! I am Silvia
I've been living in the Malaika family home for a few months with my little brother Ovye since our mother died.
In the last few months, Mom was very sick, and I had to take care of Ovye, who was a few months old, of the house and also of our mother.
It was difficult and very, very sad.
When Mamma Jutta came to pick us up together with Generose, the nurse, she hugged us hard and told us that we would be fine in Malaika with them.
At home, I found many other older and younger children, the same age as Ovye, who are now my new siblings.

Initially, my little brother never wanted to stay far from me because he was used only to me. We had always been together, and he was afraid of the "aunties". When they wanted to change his diaper, feed him, or put him into bed, he cried desperately and there was nothing to be done, I had to take care of him or he would bring down the walls with his screams.
Then the aunties managed to win him over and now he is all happy to be with them. He has just learned to walk and is convinced he can play football. In these days he is starting to repeat all the words he hears and he's just so funny.

In our first days at Malaika Mamma Jutta decided that I had to go to school because I was already 8 years old and I had never been to school, so I could not lose any more time. Luckily there was also Mina with me who has just the same story as me and together we worked up the courage and entered a boarding school. We had to learn English quickly to start primary school instead of preparatory school. We learned so quickly and so well that after a few months we became the two best students in the class and now we attend only during the day. In the afternoon we come back home, I can see Ovye and play with all the other children of Malaika.

I get along especially well with Mina, Rafa and Katy: we are the same age and everybody says that we are "a nice gang" and I think it's true.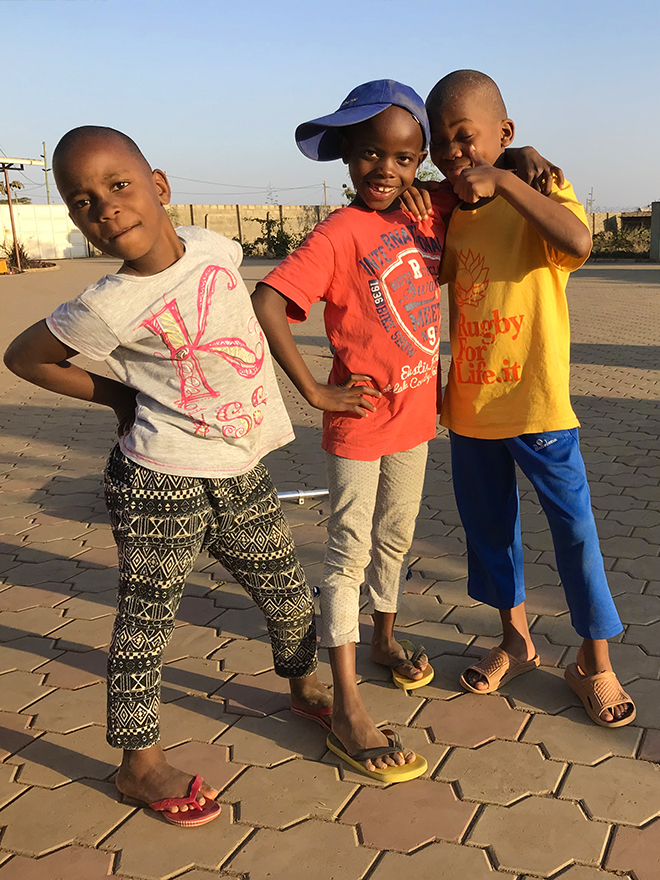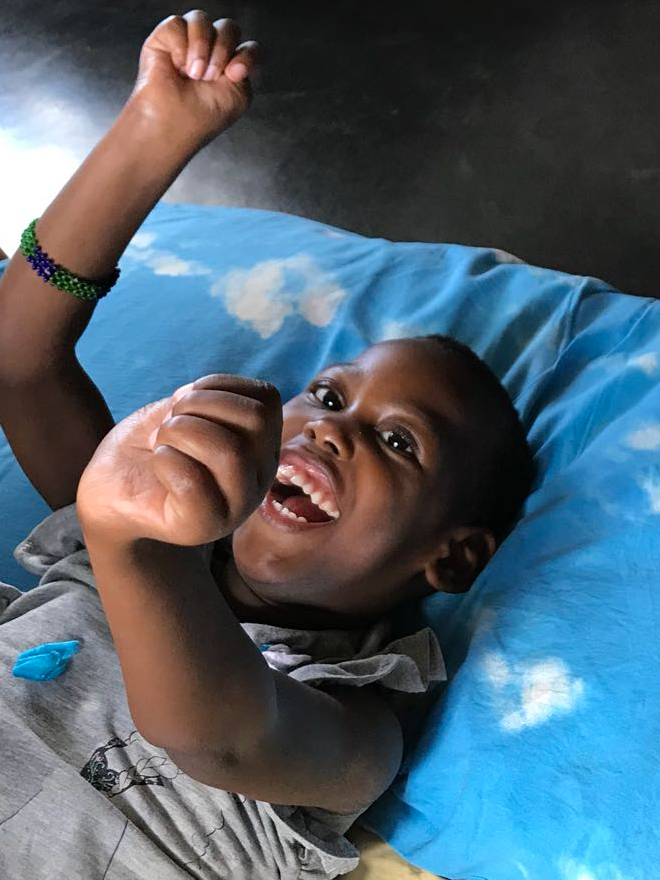 Hi! I'm Livy
But this is not the name I had as a child, I received it at Malaika when the "aunties" found me in front of the gate a few years ago. I didn't know my name because I couldn't speak or even walk, and the doctor says my brain had problems when I was born.
Now I live in Malaika with all my little siblings around who move, play, laugh, go to school. I stay in my bed or out in my chair or in the hammock to get some fresh air. I love it when other children come to greet me and to play with me.

Now I have my own chair with even a little table in front so I can stay out for a longer time and it's really nice when some of the kids stop to play with me near my table.
The aunties wash me, dress me, give me food and drink. And they pamper me so much because they know that I feel better and smile. A wheelchair with wheels has just arrived as a gift: I'm growing up and I am getting heavy.
They often massage me with perfumed oil and we do physical therapy, as they learnt in a center where families go to understand how to take care of children like me.

Malaika is my family and everyone here loves me. But at first the aunties were frightened of me because they didn't know what to do with me because I'm so different from all other kids. At first I cried desperately because I did not understand where I had been taken and I was scared by this new house and new people, and especially at night I was so scared.
Now, when I smile, everyone's happy and says, "Who knows if she understands," and they hug me and take care of me.
Hi! I'm Julian.
They tell me I've been living in the Malaika since I was born. I don't know my parents, they must have been desperate to leave me alone. I was so small that I had trouble growing up, but now I'm very tall for my age.

They say I never learned to speak as a child, or I spoke in a way that no one understood what I said. Maybe that's why I don't talk much, even now that I can speak well. What I like most of all is playing football, where you don't say much but you have a lot of fun.

I'm attending primary school and I don't really like studying that much, but so far, I've never dropped a year. My older siblings in Malaika help me with math, which is really hard for me, while in other subjects I do well, even in English.


The older boys are always talking about things that I am not interested in and the little ones always play with each other, but sometimes I play with them and it's fun. I'm fine with Malaika because this has been my home forever.


I really like working in the garden and breeding chickens, I am the one who knows how to do all these things and also others know and respect me because I am very good.
Historical images of the early years of Malaika